December 14, 2017 – Christmas Party with entertainment by the Harmony Singers – Directed by Harvey Patterson.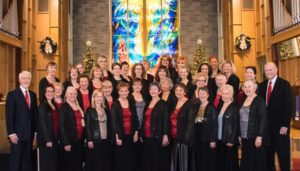 The Harmony Singers (theharmonysingers@ca) are known for the fun, spirited, and energetic performances they give. Since they memorize all their music, The Harmony Singers have the freedom to move to the music and really get into the songs.
Background: The Harmony Singers have been entertaining audiences in the GTA since 1965. They perform three concerts a year as well as appearing at hospitals, retirement homes and civic gatherings. The singers have sung the national anthems at a Blue Jays game and appeared in a music video with the group Down With Webster. Each year they give a scholarship to a deserving graduate from the music theatre program at Etobicoke School of the Arts. In June they will perform for the City of Toronto as part of the Canada 150 celebrations.
Harvey Patterson is a conductor, composer, writer and singer who has sung professionally on many TV and radio shows. Harvey has been with The Harmony Singers since 1991.