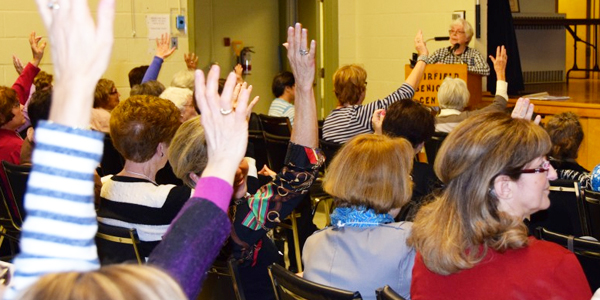 Advocacy has been an integral part of CFUW since its inception in 1919, and the organization has played a significant role in advocating for improvement in the lives of women and girls.
Our Issues Group researches, discusses and considers possible ways of taking action on topics of interest and concern, both those that are the subject of CFUW policy (established through Resolutions debated and passed by CFUW as a whole) and those that are of interest to group members. Advocacy includes letter writing, meeting with politicians, research and writing resolutions, hosting all-candidates meetings. Recent issues include Toronto transit, aboriginal education funding, childcare, Ontario Crown Wards, the long-form census, and foreign aid.
Meets on the 3rd Thursday evening at 7:30 pm. Contact Peggy Pinkerton.
The Club's March general meeting is given over to discussion and approval (or not) of resolutions prepared by clubs across the country for consideration at the CFUW national AGM.
For more information about the advocacy process in Ontario, visit: CFUW Ontario Council Policy
For issues being debated at the National level visit: CFUW National Policy/Advocacy.