December 6: Toronto Caucus Memorial Luncheon
Serving as a memorial to the women murdered at the Montreal Ecole Polytechnique on December 6, 1989 and as a reminder about violence against women, the luncheon is always a very special event and an opportunity to meet members of other CFUW clubs.
Date:         Wednesday, December 6
Speaker:   Elizabeth Renzetti
Elizabeth Renzetti is national columnist with the Globe and Mail; she has been a correspondent in the newspaper's Los Angeles and London Bureaus.  She is executive editor of Elm Street Magazine and a lecturer in journalism at Ryerson University. Her first novel. Based on a True Story, was a national bestseller in 2014.  
Topic:  Silence is a Cave that Provides no Shelter: Why Women's Voices are Needed Now More than Ever
Location:   The Faculty Club of the University of Toronto, 41 Willcocks Street
Cash Bar from 11:30 a.m. Luncheon at 12:15 p.m.
Tickets:  $65 (cheque payable to CFUW Special Event)
Contact:     Avery Fleming  A charitable donation receipt will be issued for a portion of the cost. Avery will be selling tickets at the October and November General meetings.
Write your cheque and mark your calendar now!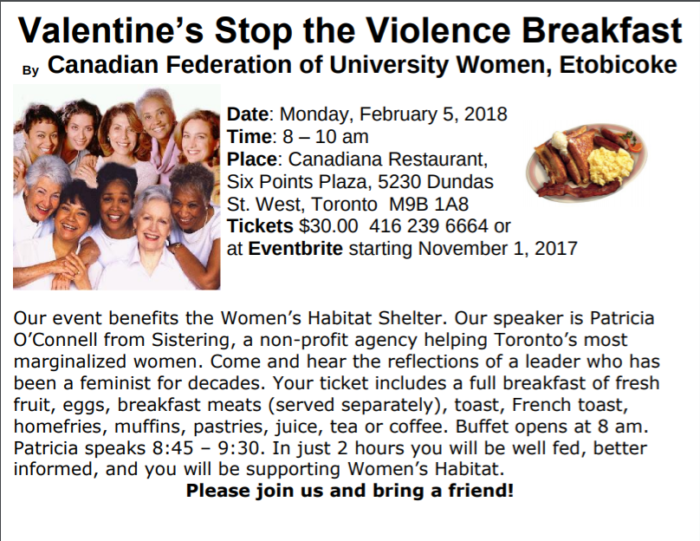 Arts Etobicoke: What's On In Etobicoke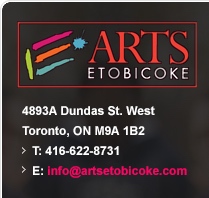 Keep informed about the many arts activities produced and supported by Arts Etobicoke in the community by checking out the Arts Etobicoke calendar