7:00 Refreshments  7:45 Speaker followed by the Business Meeting
CFUW Etobicoke holds General Meetings the second Thursday of every month at 7:45 pm at Fairfield Centre, 80 Lothian Ave. Join friends for coffee and goodies beginning at 7:00 pm prior to the general meeting. Each meeting has a guest speaker followed by announcements and updates by the Club's President.
---
Program for 2017 – 2018
September 14, 2017   Opening Night
Come to register for the 2017/18 Club year and hear about the speaker program planned for the coming year. Interest Group Convenors will be on hand to give information about their groups and register members. Payment of the annual membership fee entitles a member to join as many groups as she wishes. (Sign-up for new members begins at 7:00 pm., returning members at 7:30)

---
October 12, 2017 – Carol Day  "Water Issues"

Water has been a focus of Carol's Advocacy work for the last 10 years.
Background: Carolyn has appeared and presented before 3 provincial public hearings, has been appointed by the Ontario government to serve on the Great Lakes Charter Annex Advisory Panel of the MNR; appointed by the Ontario government to serve on the Saugeen, Grey Sauble, Northern Bruce Peninsula Drinking Water Source Protection Committee; a member of the NGO coalition Water Guardians and has researched and wrote 42 Provincial briefs and letters on behalf of CFUW OC – mostly on water issues and draft provincial legislation affecting water.
Carolyn has been a member of CFUW for 27 years. She has held numerous positions at the Local, Provincial and National Level and has been involved in Issues, Resolutions, Advocacy and Policy. Positions held (but not limited to) include Charter President – CFUW Southport, Regional Director – Ontario West (2 terms), President CFUW Ontario Council, VP Ontario, Director- Legislation and  Policy Specialist-Water Issues.

---
November 9, 2017 – "Accessing the Health Care System" with speaker Gary Hepworth
Gary Hepworth has been a resident of Etobicoke for 20 years and has always been very active in the community. He is delighted to be here tonight to share key tips on Navigating our very complex Health Care System.
Gary will be sharing his knowledge and expertise in a new venture, Hepworth and Associates – Elder Life Planning Consultants.
Background: Gary has won numerous community service awards, most recently the 2016 "Community Recognition Award for Outstanding Volunteer Service to Seniors" from Yvan Baker, MPP Etobicoke Centre. He is the Founder of CARP Etobicoke and is currently sitting on their board as Past Chair. Gary is a certified Elder Planning Counsellor and a Certified Cognitive Coach. He and his wife, Gael have owned Premier Home care Services in Etobicoke for the past 6 years. Gary volunteers his time as the Etobicoke speaker for the Osteoporosis Society and also delivers presentations on the famous Village of Islington Murals.

Annual Club Book Sale
This is an opportunity to donate books you've already read and replace them with others. 
Bring only current or recent hardcovers and paperbacks, please
; older books, not in demand, must be disposed of by the Committee.  This is a money-making activity for our club: we count on you to bring in your previously enjoyed books and stock up on others!  
Please deliver your books between 6:45-7:00
so the committee can price them prior to the sale.
---

December 14, 2017 – Christmas Party with entertainment by the Harmony Singers – Directed by Harvey Patterson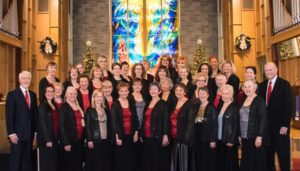 The Harmony Singers (theharmonysingers@ca) are known for the fun, spirited, and energetic performances they give. Since they memorize all their music, The Harmony Singers have the freedom to move to the music and really get into the songs.
Background: The Harmony Singers have been entertaining audiences in the GTA since 1965. They perform three concerts a year as well as appearing at hospitals, retirement homes and civic gatherings. The singers have sung the national anthems at a Blue Jays game and appeared in a music video with the group Down With Webster. Each year they give a scholarship to a deserving graduate from the music theatre program at Etobicoke School of the Arts. In June they will perform for the City of Toronto as part of the Canada 150 celebrations.
Harvey Patterson is a conductor, composer, writer and singer who has sung professionally on many TV and radio shows. Harvey has been with The Harmony Singers since 1991.

---

January 11, 2018 – Brenda Alderdice, Senior Move Manager
Brenda is one of the first franchisees and owner of Downsizing Diva Etobicoke. She is a specialist in downsizing and moving with a focus on helping seniors through this challenging transition. She is trained in all aspects of senior move management, senior relocation services and elder care resources. Brenda has become one of the most sought after Senior Move Managers in her communities because she has a proven track record for helping seniors and their families with her extraordinary talent for organizing, downsizing and moving.
Brenda is described as a "go getter", "dedicated", and "loving". She treats her clients as family, assisting them through a time of transition with compassion, care and flawless attention to detail because she believes everyone should have a positive beginning to their new phase in life.
---
February 8, 2018 – "Homeward Bound" with speaker Carol Devine, MSc (Human Rights)
Carol Devine is a researcher, writer,  and humanitarian. She has a graduate degree in The Politics of Rights, Faculty of Economics (London University) and an undergraduate degree from McGill University. She is currently a Humanitarian Affairs Advisor with Médecins Sans Frontières/Doctors without Borders (MSF) Canada.
Carol researched and co-wrote about MSF's experience bringing HIV/TB treatment to Khayelitsha, South Africa, wrote and has presented before the Canadian Parliament on the Access to Essential Medicines regime. She has worked for MSF in Rwanda, South Sudan, East Timor and Kenya in humanitarian advisor roles and was MSF Canada's liaison to the Access to Essential Medicines Campaign.
Carol has also previously worked with The Museum of AIDS in Africa (Progam Manager and Strategic Advisor), The Stephen Lewis Foundation (researcher, rapporteur and co-facilitator) and with Dignitas International (Policy Advisor). She currently serves on Dignitas' Board of Directors.
She is interested in climate and culture and led a cleanup expedition to the Antarctic in 1995/1996 which she documented in a book she co-wrote on the experience living at a Russian scientific station, The Antarctic Book of Cooking and Cleaning. Carol also participated in a clean up in Svalbard, Norway above the Arctic Circle and brought home a survey marine debris from that trip which is now collected by the Canada Science and Technology Museum and is photographed in an exhibit she photographed, Aquamess: Portraits of Garbage at the top of the World.

---

March 8, 2018 will again deal with Resolutions and the Issues Group will chair that meeting.

---

April 12, 2018. Nikki McAlister,  Community Engagement Coordinator (Etobicoke, North Toronto, York), Daily Bread Food Bank
As a Community Engagement Coordinator for Daily Bread Food Bank, Nikki works with food programs at 24 member agencies to recognize and address barriers that impede client access to food, to provide training and mentorship towards a high standard of respectful and dignified service provision, and to promote engagement in broad-scale food security issues. Nikki is a Certified CPI instructor for Nonviolent Crisis Prevention and Intervention, and Trauma-Informed Care.
With a background in both education and employment services, Nikki McAlister joined the Daily Bread team in 2010, working as the on-site food bank coordinator before moving to Daily Bread's Agency Relations team, managing the needs of 24 agencies.
---

May 10,2018. Year-end Celebration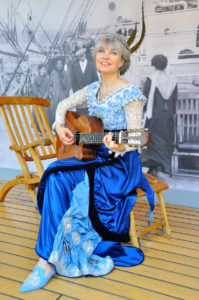 Where:  Lambton Golf and Country Club, 100        Scarlett Road

Cash Bar: 5:30 pm
Dinner: 6:30 pm
Menu: Salad, your choice of beef or salmon with vegetables, carrot cake with marinated strawberries, tea or coffee
Tickets: $72,  by cheque only, payable to CFUW Etobicoke  
Speaker: Rosalee Peppard, a musical oral historian who commemorates historic events in story and song.  To commemorate the Sinking of the Titanic, Rosalee created the musicale "Living Titanic", a memoir of Canadian survivor Hilda Mary Slayter.  She was asked to perform this music at the International Titanic Convention in Belfast and the National Arts Centre in Ottawa.  Rosalee also wrote "Ship of Dreams" as the theme song for Halifax's Titanic One Hundred Commemoration.  In her presentation, Rosalee will perform her music as she tells us the story of one of the worst marine disasters in history.
Ticket Sellers:  At general meetings:  Karen Henderson, Maureen Willis, Rosemary Campbell;  in addition, Debby Wright, Audra Hudek, and Diane Hercus will have tickets available at their interest groups.